Monti Sibillini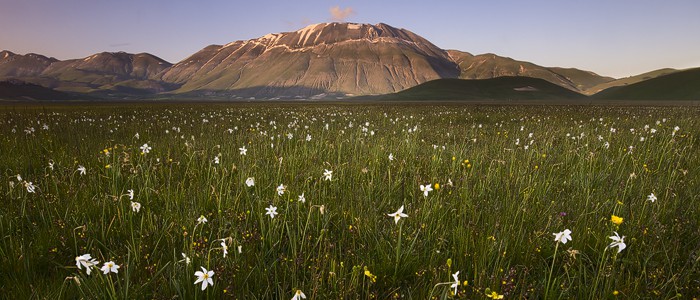 For some years I thought about visiting the mystical Monti Sibillini in central Italy. Inspired by the work of other talented photographers on the web I imagined a landscape unique in Europe. In beginning of June, I finally was able to witness it with my own eyes (and camera). The most fascinating corner of the Monti Sibillini (at least of what I saw) is definitely the plateau of Piano Grande (the Great Silence). At about 1400m above sea level, this plateau is surrounded by peaks up to 2500m in height and covered with countless wildflowers, orchids and the fields of the most famous and tasty lentils of Italy. Unfortunately, I think I was maybe one or two weeks to early to experience the culmination of bloom. On a small hill in the plain, one of the most beautiful settlements of Italy, Castelluccio, watches over the countryside. In the morning, the depression is almost always covered with fog as there is no way for the cold air to flow out of the basin. It is an admirable scenery to watch, but for landscape photography I found it quite difficult to realize what I had in mind. Because of the high mountains surrounding the plateau, there is neither perfect morning nor evening light available. The first sunrays reach Piano Grande not until the sun is already quite elevated. Nevertheless, it is a worthwhile destination full of great impressions – and some possibly very interesting corners I didn't manage to explore. So all I can say is that I'll return some day for sure! And the highlight of my trip was still to come…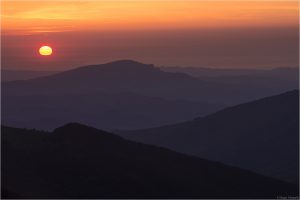 The sun rises above the Adriatic Sea and behind the hills of Monti Sibillini.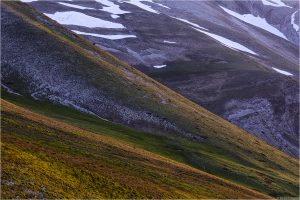 First sunrays illuminate the hillside of Monte Vettore (2476m).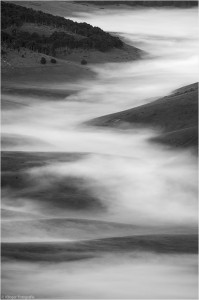 Every morning, fog is swirling in the depression of Piano Grande.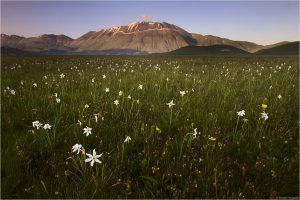 Countless wildflowers are covering the plains of Piano Grande below Monte Vettore.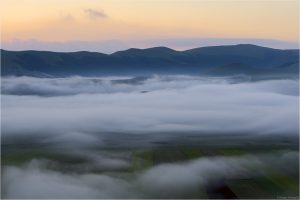 It takes a long time until the fog disappears as the sun reaches Piano Grande quite late.