Taugl – Hidden miracle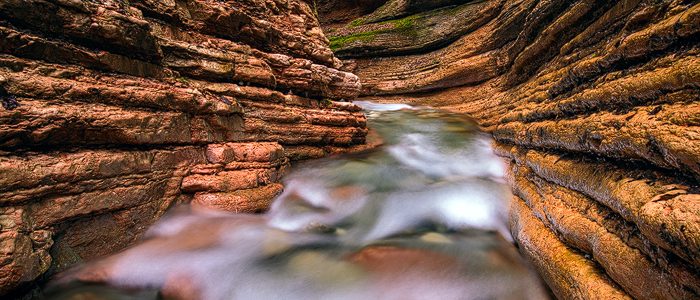 At Taugl creek, I've been once before a few years ago but I did not take anywhere near enough time to explore this hidden miracle of nature. I was not completely aware of what this valley has to offer and went on after only a few hours. Now, older and some kind of wiser,  I wanted to spend much more time there and started the approximately 2,5 hours drive from my home west of Munich already in the middle of the night last Saturday. Glad to have my navigation system with me, I finally arrived at the Tauglboden valley and started my explorations. Not only the main stream of Taugl is very impressive. But some of the smaller tributaries are almost beyond imagination. They cut through layers of white and deep red limestone, plunge down into extremely narrow ravines in countless cascades. Without waders you won't have any chance to reach the most beautiful places as the water is freezing cold. And even with my waders I often had to stop way earlier than I hoped. Up in the mountains there is still a lot of melting snow which causes the water levels, that are already quite high, to rise dramatically during daytime. I stored a bottle of beer I took with me for the evening at the side of Taugl to cool it down. When I returned in the evening, I thought someone must have stolen it as I couldn't see it anymore at first – until I realized it was now completely covered under 15cm of water. Latest in autumn, when the deciduous trees along the creek will be in full colors, I will return, hoping to reach even deeper down the ravines with lower water levels then.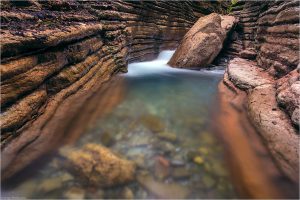 One of the most astonishing tributaries of the main creek, the red canyon.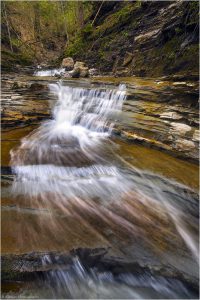 Due to snow melting, you'll find rushing waters everywhere at the moment.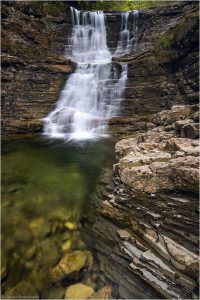 Turning around each corner wading up the ravines offers a new surprise.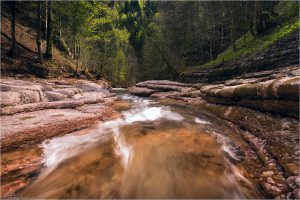 Taugl has cut deep into the bedrock.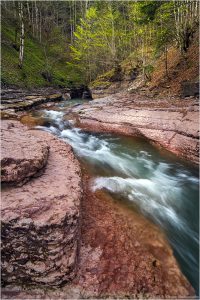 The color of the crystal clear water in contrast to the red rocks is amazing.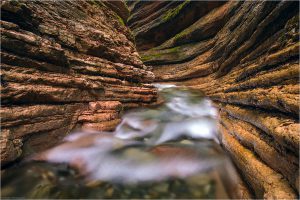 No chance without waders to reach the most beautiful parts.
The images from Taugl have also been added to my new gallery about Austria! I'd be happy if you also have a look at it! The gallery will be filled up during the next months 🙂